thoughts
Published on May 7th, 2012 | by Sam
1
3 Recent Transcriptions
Many of you have probably read Matt Warnock's post on the solos that influenced him as he was learning jazz guitar.  If you're experienced you probably have found that you never stop learning, and for me a big part of that is continuing to transcribe.  So I thought it'd be cool to write about the 3 latest effective transcriptions that I've done.
Pat Metheny-Bright Size Life
I'll admit, I'm pretty late in the game coming to this one, but it's an amazing solo.  This was actually one of the first solos I have ever learned without writing any of it down!  After years of writing things down, I would highly recommend not writing things down.  Once you can play it then write it down in case you forget, but you learn it so much more organically when you don't write it down.
That being said, this solo is great.  There's no mind-blowing harmonic tricks or anything, just great playing.  One thing that struck me as I was learning it is that Metheny has the ability to sort of bend time.  He's not always 100% 'on the grid.'  This was sort of a revelation to me.  One of my teachers had always said they guys who sound floaty-like Metheny or Frisell-probably are able to do that because they have such a great understanding of time, not because they're weak rhythmically.  After this experience I would totally agree.
Chet Atkins-Autumn Leaves
I absolutely love Chet's playing.  It's elegant and fun, sophisticated and hilarious, folky and refined.  It's just amazing.  Chet's version of Autumn Leaves is no different.  The song is pretty typical for Chet, but coming to it with not a lot of experience in the Travis picking thing it was good to get a feel for this style with a familiar song.   One little harmonic thing that is cool is using the bVI7b9 chord (Ab13b9 in this case) during the A sections.  This one is available in the Mel Bay Chet Atkins in Three Dimensions Vol 2-I highly recommend this series of books to any Chet fans.
Oz Noy-Twice in Awhile
I'm cheating here, because I'm not even finished with this one yet.  Oz Noy has really turned some of my guitar universe upside down a little bit lately.  His playing is a mix of all styles, but jazz and rock are pretty obviously his wheelhouse.
One of my favorite things about Oz Noy's playing is his counterpoint playing.  He will basically make up a couple different lines in the same way that is in some of the Two Part Inventions of JS Bach.  This tune is absolutely killing and Oz Noy kills on it himself.  He's one to keep track of. [the album version is not available on YouTube, worth getting on iTunes though!]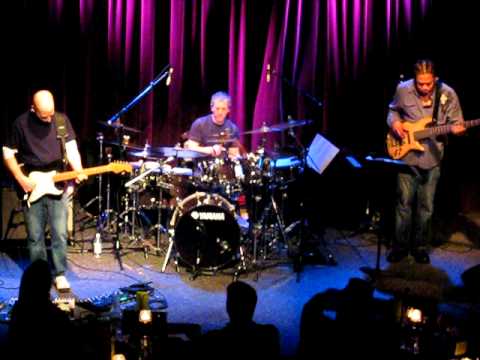 What solos have you recently been working on?  I'd love to hear what some of you guys are working on transcribing at the moment.